Nihon L'Oréal establishes "Materials Innovation Center" with NIMS
~ Accelerate made in Japan open innovation ~
Nihon L'Oréal K.K.
National Institute for Materials Science
On July 20, 2018, Nihon L'Oréal K.K. (Headquarters: Shinjuku-ku, Tokyo; President and Representative Director: Jérôme Bruhat), Japan subsidiary of the world's largest cosmetics company L'Oréal Group, together with the National Institute for Materials Science (Headquarters: Tsukuba City, Ibaraki Prefecture; President: Kazuhito Hashimoto, referred as NIMS) held a signing ceremony in regards to the establishment of L'ORÉAL-NIMS Materials Innovation Center for Science and Beauty where joint research will be conducted.
Abstract
The beauty markets in Asia are expected to continue to grow, last but not least because consumers are becoming more demanding and are looking for the perfect solutions to their very diverse Skin and Hair Care needs. Innovative solutions are needed in areas such as Skin Care and protection from radiation and pollution, Hair coloration for dark hair and styling of long hair. L'Oréal has a number of brands which are addressing those needs with solutions designed specifically for Asian consumers. Each year, L'Oréal invests substantial resources into the science behind the products, aiming to create products with unrivalled performance in the hands of its consumers.

Nihon L'Oréal's Research and Innovation Center in KSP (Kawasaki City) is a strategic innovation hub for L'Oréal. It covers the entire scientific innovation chain, from advanced and applied research, to product development and evaluation.
Now, L'Oréal Group established a collaborative research center in cooperation with the National Institute for Materials Science (NIMS), Japan's sole national laboratory dedicated to materials science. The aim of the collaborative center is to create breakthrough scientific solutions, which will be providing significant performance improvements of cosmetic products for Skin and Hair.

The new joint research center will be able to draw both from the advanced scientific research for new materials, which is a hallmark of the NIMS, as well as from L'Oreal's extended knowledge in Skin, Hair and product science. The joint research center will help to substantially accelerate the transfer from principal scientific insights into marketed products.

During the first three-year plan period (FY2018-2020), the joint research center will concentrate on creating and utilizing smart polymers, for Hair Care products which will address consumer needs in areas such as hair styling and color. Thereafter, possibility of using novel materials for advanced skin care and protection will also be considered. In addition, Nihon L'Oréal will also be able to obtain new insights in the structure and functional mechanism of cosmetic materials, through the use of a wide range of NIMS' cutting-edge analytical facilities. First product launches, using smart polymer technology and knowledge are planned in less than four years from now.

---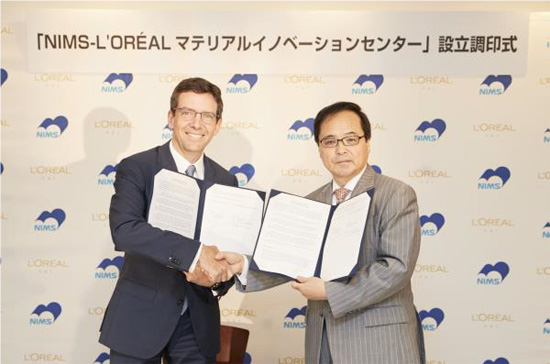 ---
---
---
Related File / Link
CONTACTS
NIHON L'ORÉAL

Lisa Funatsu
Corporate Communications Division
tel 03-6911-8104
E-Mail: lisa.funatsu=loreal.com
(Please change "=" to "@")
NIMS

Public Relations Office
tel: 029-859-2026
E-Mail: pressrelease=ml.nims.go.jp
(Please change "=" to "@")
Same Keywords
2021.08.05

2020.12.09

2020.10.20
---