NIMS signed Memorandum of Understanding (MoU) with Indian Institute of Technology, Hyderabad (IITH)
(November 12, 2019) Director of IITH, Prof. B.S. Murty visited NIMS accompanied by representatives of the university and signed inter-institutional MoU, which is aiming to strengthen and promote research collaboration between IITH and NIMS.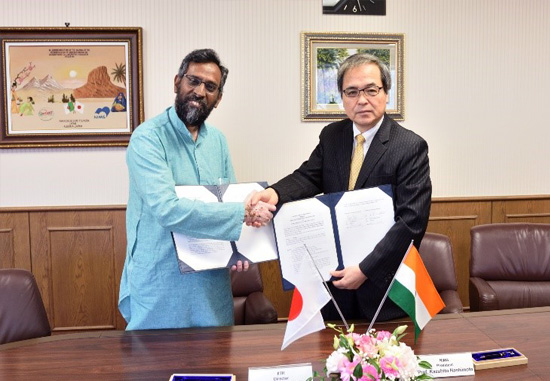 ---
---
After the signing ceremony, they took a tour of Research Center for Magnetic and Spintronic Materials and Research Center for Structural Materials.
IIT is the highest ranking university of engineering and research in India. Among them, Hyderabad is relatively new university established in 2008. IITH is known for its strength in advanced research on AI, IoT, Computer Science and so on.
IITH is specially supported by Japan International Cooperation Agency (JICA) , and IITH has been building a strong relationship especially with Japan. Many students continuously come to Japan and they experience internship at Japanese companies and study to obtain a degree at Japanese universities. Their activities make collaboration between India and Japan stronger.
IITH and NIMS will discuss further cooperation and signing an agreement for accepting students at NIMS.
---