NIMS and The University of Tennessee sign International Cooperative Graduate Program Agreement
(June 14th, 2019) Provost of The University of Tennessee (UT) Prof. Manderscheid visited NIMS.

Prof. Manderscheid and NIMS President Prof. Hashimoto signed International Cooperative Graduate Program (ICGP) Agreement, which is aiming to educate students by cooperating with each other. This ICGP Agreement became the first one with a university in the United States.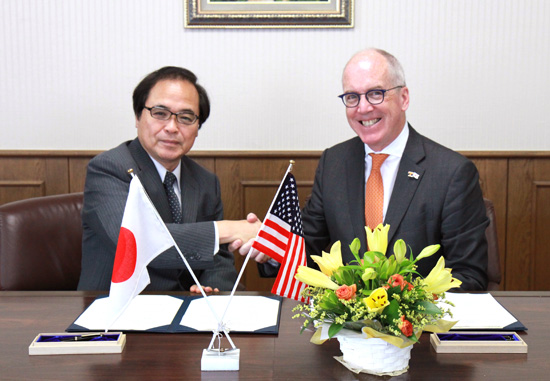 ---
---
UT, founded in 1794, has cooperated with Oak Ridge National Laboratory (ORNL) sponsored by the United States Department of Energy (DOE) on managing The Bredesen Center to promote graduate education and interdisciplinary research, which especially focuses on energy and data science. The ICGP allows us to realize more fruitful trilateral collaboration among NIMS-UT-ORNL.
It is expected that NIMS accepts many excellent students from UT and study to obtain their degrees supervised by NIMS researchers.
---