Renewal of NIMS Researcher Directory "SAMURAI"
National Institute for Materials Science (NIMS) renews its researcher directory "SAMURAI" on 10th July 2017.
SAMURAI is a search tool enabling access to profiles of NIMS researchers based on their names, affiliated groups, and keywords from scientific papers (title and contents). The success of SAMURAI is underscored by the fact that the directory has had over 700,000 page views annually since being launched in 2009.
---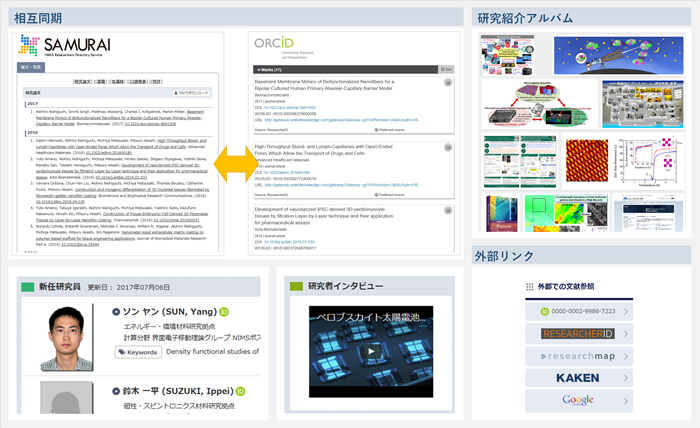 ---
---
This renewed SAMURAI includes the addition of a link function to the researcher identifier
ORCID

(*Open in new window)
. This link enables new researchers at NIMS to automatically add their publications on ORCID registered prior to joining NIMS to the SAMURAI directory, thereby improving the accuracy of staff profiles. Notably, this is the first service in Japan to synchronize ORCID with publication lists stored in a researcher directory.
Furthermore, to introduce research at NIMS to a wider audience, we have added information about fixed-term research staff to the SAMURAI directory to supplement the previous data on permanent staff, yielding a total of 1,000 research profiles at NIMS.
---