French Government Honored Former NIMS President
2016.11.30
(2016.12.01 Update)
---
French government honored Former President Professor Sukekatsu Ushioda by conferring the title of Chevalier, L'ordre national de la légion d'honneur (English: National Order of the Legion of Honour)
The citation for this award recognized Professor Ushioda's contribution to the development of France-Japan activities on creating innovations, collaborations and inviting a number of French scientists to NIMS. The conferment ceremony was held on November 29, 2016 at the official residence of the Ambassador of France in Minami-Azabu, Tokyo and the Ambassador of France to Japan, H.E. Mr. Thierry Dana awarded a distinction to Professor Ushioda on behalf of President François Hollande.
---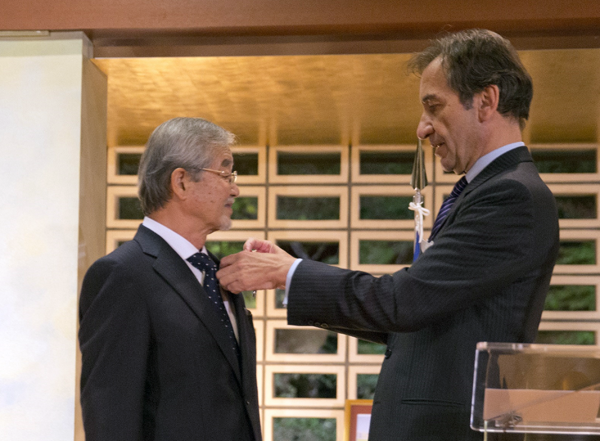 ---
---
L'ordre national de la légion d'honneur
L'ordre national de la légion d'honneur is the highest French order for military and civil merits, established 1802 by Napoléon Bonaparte. The president of the French Republic is the Grand Master of the Order and award a distinction to a person of merit for the country.
---