Development of an Antigen Enrichment Technique with Enhanced Sensitivity for Rapid COVID-19 Diagnosis
National Institute for Materials Science (NIMS)
NIMS and ELRIAH have succeeded in developing a polymeric material (Smart Cov) which can be used to dramatically increase (by approximately 10 times) the sensitivity of rapid COVID-19 diagnostic tests.
("Temperature Responsive Polymer for Enabling Affinity Separation and Enrichment of Current Coronavirus (SARS-CoV-2) to Improve its Diagnostic Sensitivity" Ahmed Nabil, Erika Yoshihara, Keita Hironaka, Ayman A. Hassan, Gamal Shiha,
Mitsuhiro Ebara
; Journal: Computational and Structural Biotechnology Journal [June 14, 2021]; DOI :
10.1016/j.csbj.2021.06.016
)
---
Abstract
NIMS and ELRIAH have succeeded in developing a polymeric material (Smart Cov) which can be used to dramatically increase (by approximately 10 times) the sensitivity of rapid COVID-19 diagnostic tests. The use of this technique may aid in the identification of weak positive test samples with very low antigen levels which conventional screening often fails to achieve, thereby potentially contributing to the containment of the ongoing COVID-19 pandemic.
Current COVID-19 tests, including PCR tests, target specific genetic materials. These tests have several disadvantages. First, their results vary widely depending on a number of factors, such as the time elapsed between infection and test sample collection, ways in which test samples are taken and the types of test agents used. This inconsistency increases the probability of a false-negative test result. Second, current tests' detection sensitivities are low: about 60 to 70%. Finally, some developing countries have limited access to PCR tests because testing equipment is expensive. By comparison, antigen tests are quick (requiring only 15 to 30 minutes to deliver results), easy to perform and more widely available to the global community. These tests, however, also have an issue: test samples obtained through nasal and throat swabs usually contain extremely low concentrations of antigens (less than one nanogram/mL, or one billionth of a gram/mL), making detection difficult. It is therefore desirable to develop a means of increasing the sensitivity of antigen tests to minimize false-negative results, a potential source of COVID-19 clusters.
This research team recently developed a technique capable of sufficiently condensing and purifying low concentrations of the antigens of SARS-CoV-2—the virus that causes COVID-19—present in test samples, thereby enhancing the visual readability of testing results. This technique employs antibody-polymer conjugates (Smart Cov) composed of smart polymers (water-soluble polymers whose solubility dramatically decreases when heated) modified with SARS-CoV-2 antibodies. In this technique, Smart Cov is first allowed to bind to SARS-CoV-2 antigens in test samples. The Smart Cov-antigen complex is then heated, making it water insoluble and precipitate. This process condenses antigens while removing impurities—a potential cause of misdiagnosis. This antigen condensation and purification technique was confirmed to enable visual detection of targeted antigens at a concentration as low as 50 pg/mL.
The team is currently preparing to study the usability of the Smart Cov technique using test samples taken from COVID-19 patients at ELRIAH with the goal of putting it into practical use as a sensitive COVID-19 diagnostic tool. The use of this technique may significantly reduce false-negative testing rates, which would help prevent the further spread of COVID-19 infections and reduce the number of severe cases.
This project was carried out by a research team led by Mitsuhiro Ebara (Leader of the Smart Polymers Group (SPG), Research Center for Functional Materials (RCFM), NIMS), Ahmed Nabil (Postdoctoral Researcher, SPG, RCFM, NIMS) and Gamal Shiha (Founder and CEO of the Egyptian Liver Research Institute and Hospital (ELRIAH)).
This research was published in the June 14, 2021 issue of Computational and Structural Biotechnology (vol. 19, pp. 3609–3617). A patent application has been filed for the smart polymer product (application number: 2021-066984).
---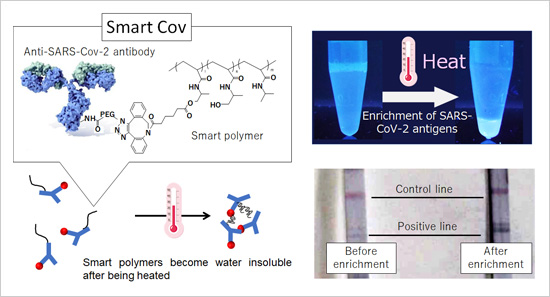 ---
---
---
Related File / Link
Inquiry about this page
(Regarding this research)

Mitsuhiro Ebara
Group Leader
Smart Polymer Group
Research Center for Functional Materials
National Institute for Materials Science
Tel: +81-29-860-4775
E-Mail: EBARA.Mitsuhiro=nims.go.jp
(Please change "=" to "@")
(General information)

Public Relations Office
National Institute for Materials Science
Tel: +81-29-859-2026
Fax: +81-29-859-2017
E-Mail: pressrelease=ml.nims.go.jp
(Please change "=" to "@")
Same Keywords
2020.12.09

2020.10.20

2020.09.08
Recent Press Release
2021.08.30

2021.08.27

2021.07.29
---