Colloidal Wound Dressing Capable of Reducing Inflammation after Cancer Surgery
—Hydrophobized Porcine Gelatin with Greatly Enhanced Adhesion Strength Can Be Applied Using an Endoscope, Preventing Severe Complications—
National Institute for Materials Science (NIMS)
Kagoshima University
A NIMS-Kagoshima University research group has developed a new wound dressing capable of closing wounds resulting from a gastrointestinal cancer treatment and promoting tissue regeneration. This dressing was found to be able to glue tissues together approximately 10 times more firmly than commercially available dressings and to alleviate inflammation caused by cancer tissue resectioning. This medically promising material may potentially prevent complications associated with gastrointestinal cancer treatments, such as cicatricial stenosis and bleeding.
("Multi-functional hydrophobized microparticles for accelerated wound healing after endoscopic submucosal dissection"
Akihiro Nishiguchi
(NIMS) , Fumisato Sasaki (Kagoshima University) , Hidehito Maeda (Kagoshima University) , Masayuki Kabayama (Kagoshima University) , Akio Ido (Kagoshima University) ,
Tetsushi Taguchi
(NIMS); Journal: Small [Online: July 15, 2019]; DOI:
10.1002/smll.201901566
)
---
Abstract
Endoscopic submucosal dissection (ESD) is an advanced surgical procedure in which an endoscope is used to remove early gastrointestinal cancer from the esophagus, stomach and large intestine, etc. ESD is gaining acceptance as a standard technique for particular types of resectioning. The technique is able to endoscopically remove cancer tissues without the need to open the abdomen, thereby leaving muscular layers and other tissues intact. ESD, however, has the risk of causing severe inflammation to submucosal tissues exposed by cancer tissue resectioning, which may develop into cicatricial stenosis. The wound dressing sheet currently used to close wounds resulting from ESD has several issues, including low adhesiveness to tissues, induction of inflammation during degradation and the challenge of delivering it to a target site using an endoscope due to its incompatible shape.
This research group has developed a particulate wound dressing that can firmly adhere to biological tissues and be easily delivered to and sprayed onto a target site using an endoscope. This dressing was fabricated by chemically modifying porcine-derived gelatin with hydrophobic molecules that are highly adhesive to tissues and processing it into particles using a spray-drying technique. These particles are very small (micrometers in diameter), enabling them to be easily sprayed using an endoscopic spray device. The group carried out adhesion tests using porcine gastric mucosal tissues and found that the adhesion strength of the new wound dressing was approximately 10 times that of commercially available dressings and approximately double that of unmodified porcine gelatin particles. The group also found that when the dressing material was mixed with whole rat blood, it promoted blood coagulation. In addition, spraying of the material onto artificially induced ulcers in the stomachs of miniature pigs reduced inflammation in submucosal tissues and thereby prevented them from becoming fibrotic, which leads to the development of cicatricial stenosis. Finally, because the new wound dressing is degradable and absorbable by the body, no additional surgery is necessary to remove it.
This medically promising material is potentially capable of firmly adhering to biological tissues and protecting wounded areas and may be used to effectively prevent ESD-associated complications. Under the medicine-engineering collaborative research framework, this NIMS-Kagoshima University group plans to conduct preclinical evaluation of the material with the goal of demonstrating non-clinical proof of concept.
This project was carried out by a research group led by Akihiro Nishiguchi (Researcher, Biomaterials Field, Research Center for Functional Materials [RCFM], NIMS), Tetsushi Taguchi (Group Leader, Biomaterials Field, RCFM, NIMS) and Akio Ido (Professor, Department of Digestive and Lifestyle Diseases, Kagoshima University Graduate School of Medical and Dental Sciences).
This project was supported by the JSPS Grant-in-Aid for Scientific Research (grant numbers: 16H04524 and 18K14099), and the MEXT Nanotechnology Platform Japan program (for the use of the NIMS Molecule and Material Synthesis Platform).
This research was published in the online version of the scientific journal Small on July 15, 2019.
---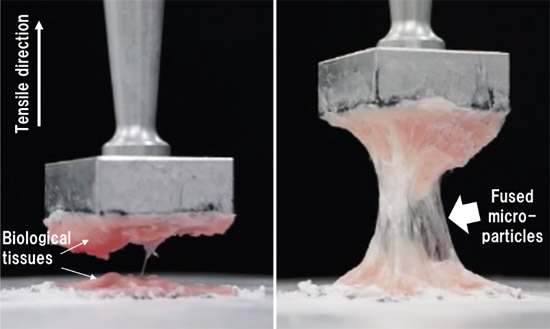 ---
---
---
Related File / Link
Contacts
(Regarding this research)

Tetsushi Taguchi
Leader of the Polymeric Biomaterials Group, Biomaterials Field, Research Center for Functional Materials
National Institute for Materials Science
Tel: +81-29-860-4498
E-Mail: TAGUCHI.Tetsushi=nims.go.jp
(Please change "=" to "@")
Akio Ido
Professor, Department of Digestive and Lifestyle Diseases
Kagoshima University Graduate School of Medical and Dental Sciences
Tel: +81-99-275-5326
E-Mail: ido-akio=m2.kufm.kagoshima-u.ac.jp
(Please change "=" to "@")
(General information)

Public Relations Office
National Institute for Materials Sciences
Tel: +81-29-859-2026
Fax: +81-29-859-2017
E-Mail: pressrelease=ml.nims.go.jp
(Please change "=" to "@")
Public Relations Office
Kagoshima University
Tel: +81-99-285-7035
E-Mail: sbunsho=kuas.kagoshima-u.ac.jp
(Please change "=" to "@")
Same Keywords
2022.05.19

2021.04.27

2020.01.24
Recent Press Release
2022.05.30

2022.05.19

2022.04.22
---