NIMS and The Georgia Institute of Technology sign International Cooperative Graduate Program Agreement
(November 29th, 2019) Professor Surya Kalidindi of The Georgia Institute of Technology (GIT) visited NIMS.

Prof. Kalidindi and NIMS President Prof. Hashimoto celebrated the signature of International Cooperative Graduate Program (ICGP) Agreement, which is aiming to educate students by cooperating with each other. This ICGP Agreement became the second one with a university in the United States.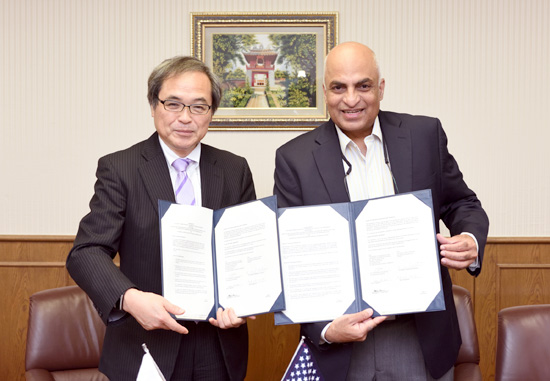 ---
---
GIT, founded in 1885, is a state university located in Atlanta, Georgia, USA. It is recognized as one of the top technological research universities in the United States and more than 25,000 undergraduate and graduate students are studying.
It is expected that NIMS accepts many excellent students from GIT, who will study to obtain their degrees supervised by NIMS researchers.
---