New International Associated Laboratory between Neel Institute, CNRS and NIMS named 3N-Lab (NEEL NIMS for Nanoscience Laboratory) was inaugurated on 26 February at NIMS
2016.02.26
(2016.03.16 Update)
---
Neel Institute, Centre national de la recherche scientifique (CNRS) and NIMS has been established the new International Associated Laboratory (LIA) "3N-Lab (NEEL NIMS for Nanosciences Laboratory) " as the first LIA in the field of physics in Japan on February 26, 2016 at NIMS.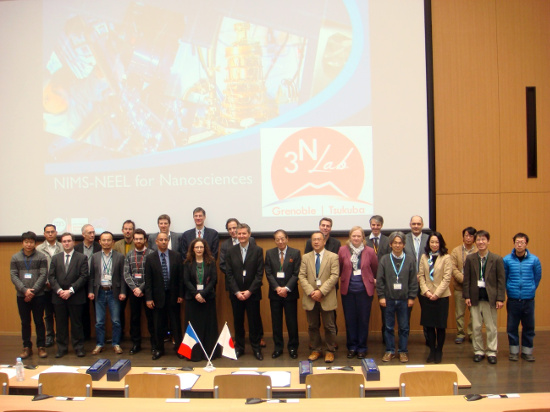 ---
---
Prof. Alain Schuhl (CNRS/INP, Director), Prof. Etienne Gheeraert (NEEL, Co-Director), Dr. Jacques Maleval (Ambassade de France, Conseiller Scientifique), Ms. Cécile Asanuma-Brice (CNRS/DERCI, bureau de Tokyo), Takahiro Fujita (NIMS, Executive Vice President), Satoshi Koizumi (NIMS,Co-Directeur) and Yoshio Aoki (NIMS, Director of External Collaboration Division) have attended the kickoff meeting.


It is an event that strengthens links between these two pillars of nanoscience research, particularly in the areas of diamond, permanent magnets without rare earth, superconductors and 2D materials based on the collaborations for more than twenty years.
This collaboration builds on the broader relationship between the GIANT innovation campus and NIMS, especially with the first NIMS "Collaborative Research Center" in Europe located at Néel Institute and MINATEC, and the GIANT office available for Grenoble researchers in NIMS since 2014.

This new comprehensive partnership in the field of research and innovation amplifies the existing links between the twin cities of Grenoble and Tsukuba, CNRS and NIMS and other collaborations in different layers between French Institutions and NIMS.
---