施設・装置
Facilities
200kV 電界放出形透過電子顕微鏡 (JEM-2100F1)

200kV Field Emission Transmission Electron Microscope
[設置部屋] 千現地区 精密計測実験棟126室/Location: Room126, Physical Analysis Laboratories Building
[メーカー] 日本電子/Maker: JEOL Ltd.
初心者にも使いやすい操作画面を備え、TEM、STEM、EELS、 EDS(点 /線分析、元素マッピング)、NBD、CBED など多機能、高分解能を有します。電子線回折図形が撮れるCCDカメラ(Gatan Orius200D) も装備しています。また、3 次元像観察用試料ホルダー及び再構成ソフトを備えています。

The microscope has a user-friendly operation interface. It supports the following modes: TEM, STEM, EELS、EDS,NBD and CBED. It is also equipped with a CCD camera for diffraction pattern. Three-dimensional observation is possible with a dedicated holder and tomography software.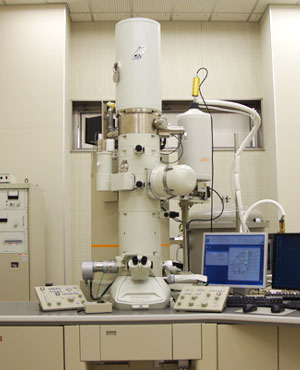 多孔質シリカ球の内部構造のTEM-CT観察
TEM-CT observation of mesoporous silica shells.
Specifications
Type of electron gun
Schottky field emission gun
Acc. Voltage
200kV (100kV, 120kV available only in 2100F1)
Resolution
Point: 0.23 nm, Lattice: 0.10 nm (TEM mode)
O.2 nm (STEM mode)
Spherical / Chromatic Aberration
1.0mm / 1.4mm
Sample Tilting Angle
X : ±35°, Y : ±30°
Spot Size
0.5 nm (smallest)for NBD, CBD & EDS
Observation/analysis functions & Attachments
STEM: ADF and BF
EDS: Spot analysis and Elemental mapping
EELS analysis: GATAN Enfina
CCD Camera 1: Maximum Pixel Size 4008 × 2672 (2100F1), 2048 × 2048 (2100F2)
CCD Camera 2: for Diffraction Pattern, Maximum Pixel Size 2048 × 2048 (2100F1 & 2100F2)
Tomography: (2100F1)
Special specimen holder: Heating specimen holder; Cooling specimen holder, Tomography specimen holder

200kV 電界放出形透過電子顕微鏡 (JEM-2100F2)

200kV Field Emission Transmission Electron Microscope
[設置部屋] 千現地区 精密計測実験棟117室/Room117, Physical Analysis Laboratories
[メーカー] 日本電子/Maker: JEOL Ltd.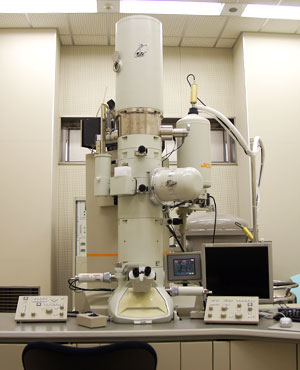 Specifications
Type of electron gun
Schottky field emission gun
Acc. Voltage
200kV (100kV, 120kV available only in 2100F1)
Resolution
Point: 0.23 nm, Lattice: 0.10 nm (TEM mode)
O.2 nm (STEM mode)
Spherical / Chromatic Aberration
1.0mm / 1.4mm
Sample Tilting Angle
X : ±35°, Y : ±30°
Spot Size
0.5 nm (smallest)for NBD, CBD & EDS
Observation/analysis functions & Attachments
STEM: ADF and BF
EDS: Spot analysis and Elemental mapping
EELS analysis: GATAN Enfina
CCD Camera 1: Maximum Pixel Size 4008 × 2672 (2100F1), 2048 × 2048 (2100F2)
CCD Camera 2: for Diffraction Pattern, Maximum Pixel Size 2048 × 2048 (2100F1 & 2100F2)
Tomography: (2100F1)
Special specimen holder: Heating specimen holder; Tomography specimen holder