Publications
CONVERGENCE No.27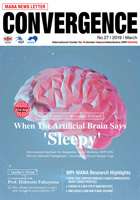 MANA NEWS LETTER "CONVERGENCE"
Interviews of world-leading scientists and introduction of our latest research findings and projects on the basis of nanoarchitectonics.
---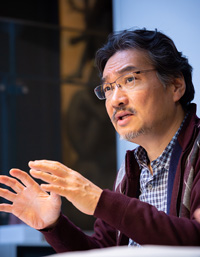 When The Artificial Brain Says 'Sleepy'



Prof. Masashi Yanagisawa


Director, International Institute for Integrative Sleep Medicine (WPI-IIIS)


Prof. Tomonobu Nakayama


Deputy Director, International Center for Materials Nanoarchitectonics (WPI-MANA)

Prof. Tomonobu Nakayama, researching nanosystems in WPI-MANA. We focus our attention on "sleep" which is a characteristic of the brain of an organism. We visited Prof. Masashi Yanagisawa and Prof. Kaspar Vogt of WPI-IIIS, the world's leading sleep research institute, to find commonalities between sleep and the artificial brain which WPI-MANA aims to develop.… [ read more ]
---
A Conversation with Prof. Hidetoshi Fukuyama  
The vibrant environment creates new research achievements.

— As an advisor for WPI-MANA, what should a young researcher aim for in research life?

Considering the meaning of life as a researcher, setting of research theme is very important. If you do not focus on "meaningful research," then what is the research for? The problem is how to come across "a good theme" where "environment" plays a crucial role.… [ read more ]
---
---
---
---