Hot Topics
Cavity space changes insulator to metal – Elucidation of origin of metallic electronic structure of Na3N –
Cavity space changes insulator to metal
– Elucidation of origin of metallic electronic structure of Na3N –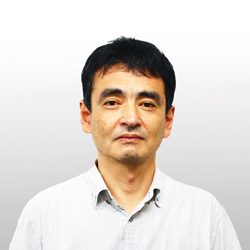 Hiroshi Mizoguchi, Sang-Won Park, Hideo Hosono (Electro-Active Materials team) and their colleagues reported that the anti-ReO3-type compound Na3N has a metallic nature irrespective of the stoichiometric chemical composition of simple representative elements and that this unusual nature originates from the collapse of the bandgap owing to the presence of a crystallographic cavity.

The results suggest the possibility of sub-nanosized design elements that combine the spatial function of gaps in solid materials with electronic functions, and the introduction of this design will lead to further diversity in the design of inclusion compound materials.
---
Paper details
Title : "Origin of Metallic Nature of Na
3
N"
Authors : Hiroshi Mizoguchi, Sang-Won Park, Takayoshi Katase, Grigori V. Vazhenin, Junghwan Kim and Hideo Hosono
Journal : Journal of the American Chemical Society, 2020, (Online: December 24, 2020)
DOI:
10.1021/jacs.0c11047
---
---
Contact information
International Center for
Ma

terials

N

ano

a

rchitectonics(WPI-

MANA

)
National Institute for Materials Science
1-1 Namiki, Tsukuba, Ibaraki 305-0044 Japan
Phone: +81-29-860-4710
E-mail: mana-pr[AT]ml.nims.go.jp

---
---