> World Premier International Research Center Initiative
World Premier International Research Center Initiative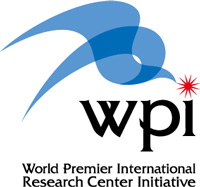 The WPI Program (World Premier International Research Center Initiative Program) was launched in 2007 by the Ministry of Education, Culture, Sports, Science and Technology (MEXT) with a mission to create globally open and appealing centers of research that serve as pivotal hubs for global brain circulation. It provides concentrated support for projects to establish and operate research centers that have at their core a group of very high-level investigators.
These centers are to create a research environment of a sufficiently high standard to give them a highly visible presence within the global scientific community - that is, to create a vibrant environment that will be of strong incentive to frontline researchers around the world to want to come and work at these centers.
In 2007, NIMS and four national universities were selected for grants, and the International Center for Materials Nanoarchitectonics (WPI-MANA) was launched on October 1st of the same year.
To date*, 14 research centers have been selected as WPI centers by meeting these four objectives: advancing leading-edge research, establishing international research environments, reforming research organizations, and creating interdisciplinary domains.
In 2017, five prior WPI centers including MANA were certified as WPI Academy Centers: a new framework intended to take the vanguard in internationalizing and further renovating Japan's research environment to accelerate and expand the global circulation of the world's best brains.
*as of December 1, 2021
■
World Premier International Research Center (WPI) Initiative | Japan Society for the Promotion of Science
---
Challenges in Building Top-world Institutes
New WPI Mission
Leading-edge research
Fusion research
System reform
Globalization
Social value of basic research
Nurturing next generation
---
---
---
World-Leading Scientific Excellence and Recognition
The Highest Level of Research Impact
Expanding Knowledge Frontiers through Interdisciplinarity and Diversity
Global Research Environment and System Reform
Harnessing Talent and Potential through Global Brain Circulation
Interdisciplinary and Inter-organizational Capacity Building
Effective, Proactive and Agile Management
Values for the Future
Societal Value of Basic Research
Human Resource Building: Higher Education and Career Development
Self-sufficient and Sustainable Center Development
---
WPI Research Centers (14) / Research Fields *as of December 1, 2021
---
---
*1 adopted in 2007, *2 adopted in 2010, *3 adopted in 2012, *4 adopted in 2017, *5 adopted in 2018, *6 adopted in 2021
* WPI Academy Centers
---
World Premier International Research Center Initiative
---