---
Four Research Fields

Revolutionary Functionality Realized through Mutual Interactions of Nanoscale Functional Units
Our research activities encompass not only the discovery and exploration of nanoscale materials with a hitherto unknown functions, research also extends to the development of revolutionary functions that are created through mutual interactions of such nanoscale units. For this purpose, researchers investigate how nanoscale structures can produce a novel linked functionality as a system and practically construct such systems on the basis of materials nanoarchitectonics
Creating revolutionary nano-system devices
Silicon CMOS devices are the mainstay of current computer technology. But for the future, the development of innovative devices that go far beyond CMOS is absolutely necessary. Otherwise, it will simply not be possible to process the enormous amounts of information that are becoming the norm in the 21st century. Some of the salient keywords are ultrafine (atomic and molecular scale), ultra high speed (including quantum information processing), and low power consumption (including superconducting devices). Nanoarchitectonics is used for basic and applied research into atomic switches, molecular devices, superconducting quantum information devices, graphene devices, as well as solar nano-antenna collector systems that make effective use of sunlight.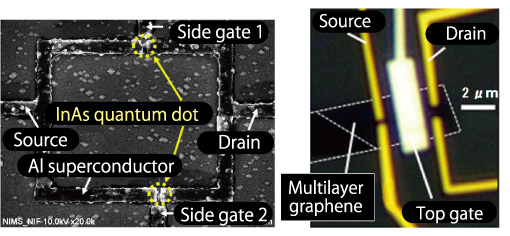 Superconducting device (left) and Graphene device (right)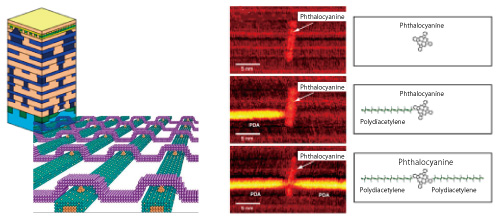 Integration of atomic switches (left) and Single-molecule device (right)
Nano-system theory
In nanoarchitectonics, theoretical research and analysis of the new functionalities exhibited by nano-systems, as well as the theoretical exploration of the principles that allow new functions to be formed through such systems are vital aspects of scientific work. Along with first-principle calculation, new calculation methods that are able to incorporate atomic numbers on a much higher scale than before are being applied extensively.

Dynamic processes on the molecule level (left) and Proposed new superconducting device (right)
Towards a neural network type nano-system
Modern computers have made enormous progress and have brought about a revolution in the way information is processed. However, after about half a century, von Neumann type computer algorithms that perform calculation according to stored program instructions have reached a plateau, and radical new approaches are called for. Will it be possible to realize computers that perform calculations without programs in a creative manner that emulates the human brain, computers that do not rely on existing device configurations and software instructions, by configuring systems that are made up only of nanoscale materials and components? This is the kind of challenge that is being pursued from the nanoarchitectonics perspective.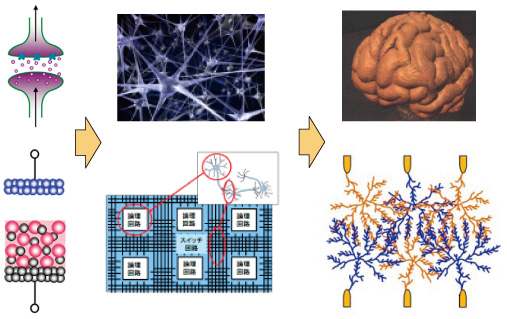 Neural network type computing circuit realized directly on the materials level
Developing new nano-system evaluation methods
Just as the age of modern nanotechnology was ushered in by the invention of the scanning tunneling microscope (STM), the future evolvement of nanotechnology is dependent on the ongoing development of new measurement methods. This is particularly important in the field of nanoarchitectonics. Subsequently to introducing the world's first multiple probe scanning tunneling microscope (STM), we have developed an atomic force microscope (AFM) with four probes operated easily. We are also developing a single molecule detection method with a high spatial resolution, a super parallel high-sensitivity molecule detection method, and a new nano-magnetism measurement method subsequently.

Development and application of AFM and STM with multiple probes

Development and application of single molecule sensing method with high spatial resolution
---