---
Four Research Fields

Innovative Medical Approaches May Draw on Nanoscale Biomaterial
In the nano-life field, enhancing the natural regenerative power of the human body is an important concept for treating diseases. The aim is to create materials suitable for "materials therapy", i.e. materials that sustainably elicit a regenerative and curative effect from the living tissue. Such materials designed and produced with nanoarchitectonics methods are expected to have an effectiveness that is comparable to conventional medicines. Drawing on the results of past research as inspiration, MANA is intensively working towards the development of such new nano-bio materials.
Artificial bone made of oriented open-pore apatite
Bone has an elaborate hierarchical structure whose major components are hydroxyapatite and collagen. The artificial bone under development has pores that are aligned in a certain direction to facilitate the entry of blood vessels and cells. These pores are formed by using ice as a casting mold, and collagen is added to form an apatite-collagen complex compound. Nanoarchitectonics methods are essential in the development of this type of artificial bone. Researchers are also working towards creating a compound composite of high polymer and collagen. Fiberized high polymer that breaks down in the body could be used in a compound composite with collagen to create a material with an affinity for cells, with the aim of enabling the regeneration of body tissue, an approach that has recently become the focus of attention. Ultimately, the technique should enable the restoration of various tissue and organ functions.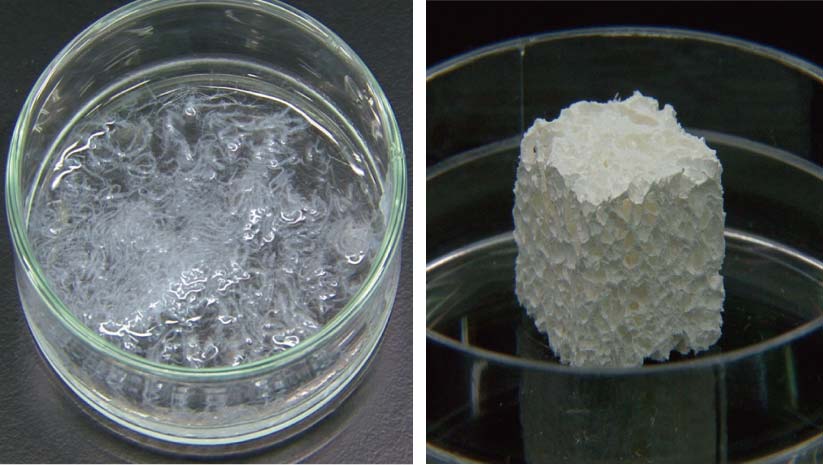 (Left) Fiberized hydroxyapatite and collagen compound composite immediately after adjustment
(Right) Hydroxyapatite and collagen compound composite made porous
Sensor cells
Adapting techniques from molecular biology and cell biology, work on development and application of sensor cells is progressing. It has been found that if a cell can be made to express a fluorescent protein in response to a signal, this method can be used to detect trace amounts of toxic metal ions and anticancer agents. This is expected to be an extremely effective technique for evaluating the toxicity of quantum dots and nanoparticle materials.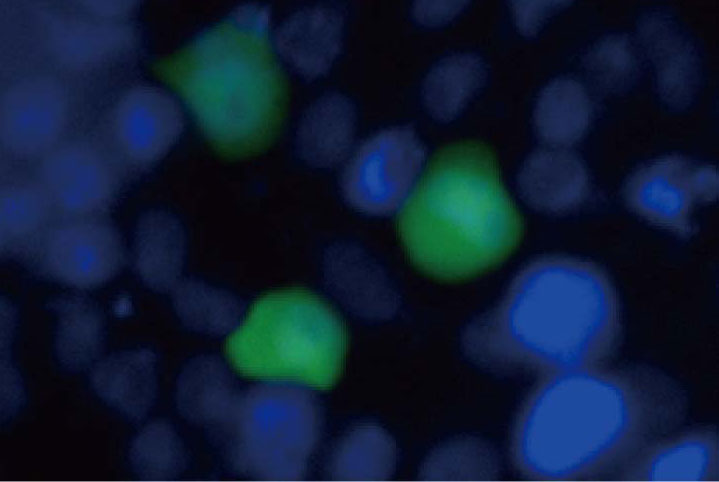 Sensor cell emanating light in response to extremely small traces of toxic material
Drug-eluting stent
Stents are widely used to expand blood vessels when constriction (stenosis) of a blood vessel occurs due to atherosclerosis. However, recurrence of stenosis (i.e., restenosis) has been a problem with conventional stents. Therefore a stent was developed in which a bio-originated material on the surface elutes a drug that induces endothelial cells to the area, thereby promoting the formation of tissue. As a result, it was found that tissue, which is very similar to the surface of a healthy blood vessel, could be formed stably.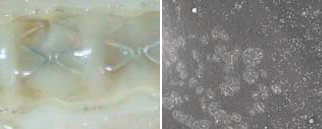 (Left) Interior of blood vessel with drug-eluting stent currently under development.
(Right) No blood clots are formed, and interior surface is smooth.
Drug delivery system/smart biomaterial research
Applying the concepts of nanoarchitectonics, researchers are exploring the possibility of creating particles with controlled shape and size that are designed to exhibit certain functions within an organism. This may enable particles to be sent deep into the lung or to have them enter the bloodstream and travel to an affected area that is being targeted. Research is also being carried out towards smart biomaterial whose functions are controlled from outside the body. Property changes in the material then could be used to control the differentiation of Sensor cells stem cells.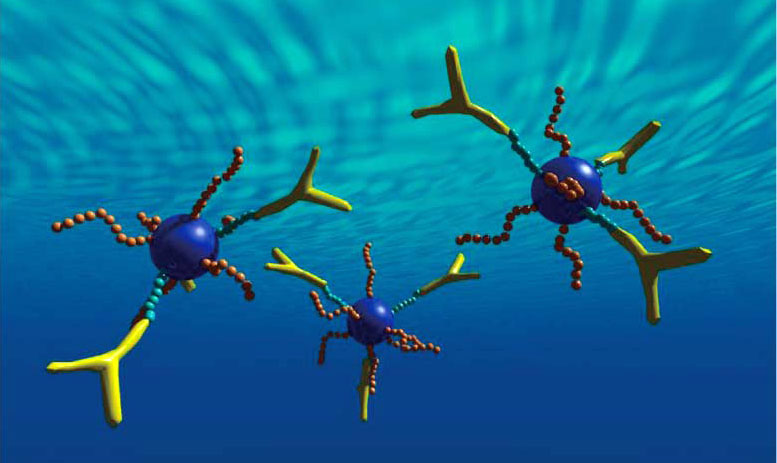 Conceptual image of intelligent particles with controlled nanostructure
---