News 2012
Summer Science Camp 2012 was successfuly held
Summer Science Camp 2012 sponsored by JST was held at MANA for 3 days on
August
3-5. The 10 participating high school students from all over Japan attended 3 practice
and
observation sessions related to nanotechnology.
---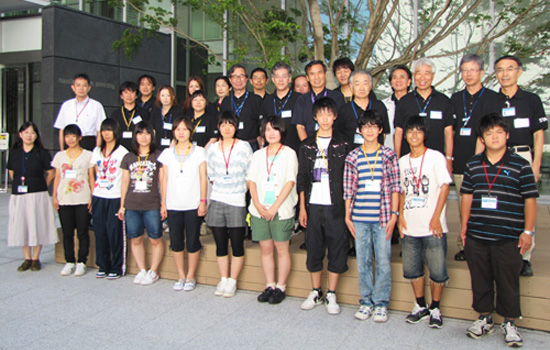 ---
---
Observation of the nano-scale world
Fine structure observation by Scanning Electronic Microscope (SEM)
After receiving a basic lecture about SEM, the participants observed various kinds of
fine
structures by SEM, including the head and a leg of an insect, different crystals, and
carbon
nanotube wires. They learned that nano-scale observation requires a focused
beam
of high-energy electrons, which has shorter wavelength than light.
---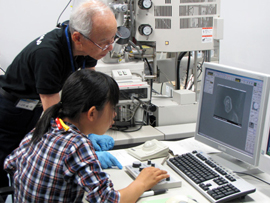 ---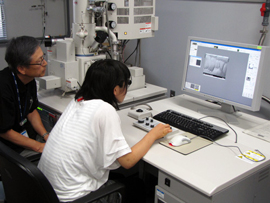 ---
---
Atomic scale observation by Transmission Electron Microscope (TEM)
After receiving an introduction about TEM, the participants observed a semiconductor
chip
with atomic scale. They also verified what kinds of elements are composed in a
specific
area of the chip by Energy Dispersive X-ray spectroscopy (EDX) measurement.
---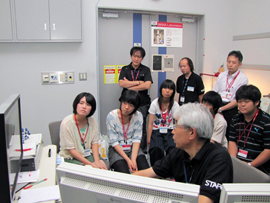 ---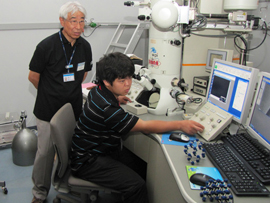 ---
---
Working inside the clean room
Learning lithography
Inside the clean room, the participants experienced two kinds of photolithography
including
a "positive-type process" and a "negative-type process" to learn about
semiconductor
manufacturing. To observe the difference between the two types of
processes,
the participants checked and compared the results under the microscope.
Then they used photolithography to make two types of Au-electrode wires with and
without
dust to verify the sensitivity to environmental contamination. By I-V
measurements
and SEM observation of the electrode structure, the participants
learned
that even a single nano-scale dust can cause short-circuit in an electrode, which is the
reason
why semiconductor processing needs an environment with a controlled level of
contamination.
---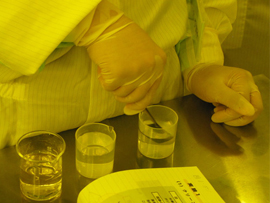 ---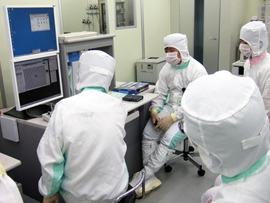 ---
---
Presentinon of the results
On the last day of the program, the participants were divided into two groups and
presented
their results obtained during three days. The participants then had to
response
to questions and comments from the instructors before they received the
well-
deserved certificate of the Summer Science Camp from MANA Director-General
Dr.Masakazu
Aono.
---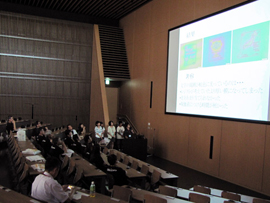 ---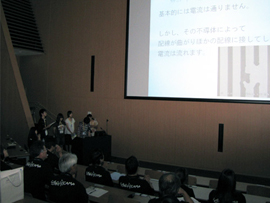 ---
---
Other lecture and a reception
After finishing the SEM program on the first day, the participants enjoyed to listen to a
lecture
entitled "Nobel Prize and
Serendipity"
by MANA COO Dr. Yoshio Bando. Then
the
participants had a pleasant chat with the instructors and young researchers at the
MANA
reception party.
---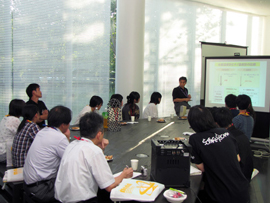 ---
---
---
---