News 2012
MANA's Second-term Kickoff Meeting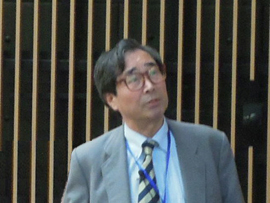 On May 7, 2012, MANA Second-term
Kickoff
Meeting was held at Auditorium of
the
new WPI - MANA Building.
The meeting started with a greeting
address
delivered by Dr. Yoshio Bando,
MANA
Chief Operating Officer.
Then Dr. Masakazu Aono, MANA Director
General,
gave an Introduction talk. He
presented
the history of the MANA
research
strategy in the past 5 years and
emphasized
the importance to promote research based on the concept of "materials
nanoarchitectonics".
Then he explained the outline of MANA's activities including the
three
goals of MANA for the next 5 years, the realization of a material-based brain-
type
computational network, a room-temperature superconductor and an artificial
photosynthesis.
Finally he presented MANA's vision and missions.
---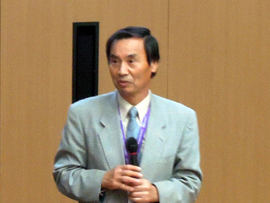 ---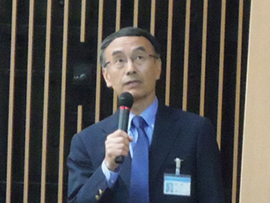 ---
---
Takahiro Fujita, MANA Administrative Director, explained about the new WPI-MANA
Building,
which was constructed based on two key concepts: "The ground Melting
Pot",
developed from the previous "Melting Pot", and "Towards Zero Energy Laboratory"
with
energy-efficient technologies that significantly reduce the energy demand and carbon
dioxide
emissions.
Then the award ceremony for the Scientific Art Pictures Contest was held. In
November
2011, Dr. Masakazu Aono, MANA Director General started a call for scientific art
pictures
to be used for wall decoration at the MANA Building and the new WPI -
MANA
Building. From 86 submissions, 3 pieces were selected to receive a prize consisting of a certificate and a commemorative medal from Dr. Masakazu Aono.
Dr. Naoki Fukata
, MANA Scientist, won the first prize for his picture named
"Efflorescence".
Dr. Chunyi Zhi, MANA Scientist, received the second prize for his contribution named
"Ag
nanowires assembled on surface of carbon sphere".
Finally,
Dr. Masanori Kohno
, MANA Scientist, got the third prize for his picture "Charge
freezing
toward Mott transition".
---

---
---
---