Our research is based largely on synthesis of nanomaterials often employing supramolecular chemistry methods. The resulting nanomaterials may be molecular in form or alternatively nanostructured bulk materials where form and function are intimately related. Super- or supramolecules are formed through non-covalent interactions between molecules, aggregates or inorganic nanomaterials. They can exhibit novel functions not available from their individual components. Our research emphasizes several types of applications including sensing, molecular electronics, drug delivery, materials sequestration and photovoltaic materials.
Dr. Supramolecular Fullerene "Lok" talks about supramolecules group
Dr. SHRESTHA became an Associate Professor at the University of Tsukuba
(Degree Program in Materials Innovation)
NEWS
2021.12.22
Dr. Katsuhiko Ariga received the 74th Chemical Society of Japan Award.
Dec. 9, 2021
Succeeded in developing an ultra-high temperature, large area nano-thin film device (ultra-high temperature LB film manufacturing device)
- It is possible to manufacture highly oriented organic semiconductor nano-thin films in a wet process approaching 200 ℃ -
Nov. 16, 2021
Dr. Katsuhiko Ariga and Dr. Jonathan P. Hill of group Leader, Nano-Materials Field, Functional Chromophores Group, have been announced to be Highly Cited Researchers 2021.
2021.9.24
A degree was awarded to Jingwen Song [Doctoral Course]
Oct. 21, 2021
Fusion research was introduced at WPI Forum (Japanese).
Part 1: Leading stem cells to nerve cells ─ "Unconventional culture scaffolding" born from "encounter of fate" ─
Part 2: This is how the unprecedented "crazy" fusion research was born!
Nov. 18, 2020
Dr. Katsuhiko Ariga and Dr. Jonathan P. Hill have been announced to be Highly Cited Researchers 2020.
Nov. 20, 2019
Dr. Katsuhiko Ariga and Dr. Jonathan P. Hill have been announced to be Highly Cited Researchers 2019.
Oct. 03, 2019
Dr. Katsuhiko Ariga appears on NHK TV program'Ohayo Nippon'
Jun. 25, 2019
Dr. Katsuhiko Ariga wins 'the 40th Langmuir Lectureship Award' of Langmuir and the ACS Division of Colloid & Surface Chemistry
Nov. 26, 2018
Dr. Lok Kumar Shrestha and Dr. Katsuhiko Ariga win STAM The Best Paper Award.
STAM (Science and Technology of Advance Materials)
Dec. 02, 2018
Dr. Katsuhiko Ariga and Dr. Jonathan P. Hill have been announced to be Highly Cited Researchers 2018.
Nov. 13, 2018
Mr. Masaki Ishii received the excellent poster award at the 33rd Molecular Society Kanto Branch Ibaraki District Young Association Exchange Meeting
Sep. 19, 2018
Dr. Katsuhiko Ariga was interviewed on the Nobel Prize for the Science Communicator of the National Museum of Emerging Science and Innovation.
Nobel prize for researchers
Feb. 13, 2017
Dr. Waka Nakanishi wins the Encouragement Award in Science from Division of Colloid and Surface Chemistry (DCSC), the Chemical Society of Japan (CSJ).
Aug. 31, 2016
Dr. Katsuhiko Ariga selected as Honorary Member of MRSI
Jul. 31, 2016
Dr.Taizo Mori Wins The Michi Nakata Prize for Early-Career Award at The International Liquid Crystal Society.
Jul. 30, 2015
Dr. Katsuhiko Ariga Wins the Japan Society of Coodination Chemistry Contribution Award.
Jun. 18, 2015
Success in control of supramolecular machine by the simple mechanical procedure
Jun. 01, 2015
Success of control of cellular orientation and differentiation by supramolecular carbon materials(Japanese only)
Oct. 31, 2014
Katsuhiko Ariga group leader and Dr. Waka Nakanishi took an interview. That has been published in Periodicals of MANA "Convergence" No. 18.
Jun. 27, 2014
The book titled "材料革命ナノアーキテクトニクス"(Nanoarchitectonics material revolution) written by Katsuhiko Ariga group leader, has been released by Iwanami Shoten. (Japanese page)
Jun. 16, 2014
Success in Intracellular Imaging of Cesium Distribution in Plants Used for Cesium Absorption
Jun. 10, 2014
Dr. Katsuhiko Ariga has been selected as a Highly Cited Researcher 2014 in Materials Science (Thomson Reuters).
Apr. 11, 2014
"Rainbow Cube" by two MANA Scientists, Dr. Lok Kumar Shrestha and Dr. Jonathan Hill received the Award for Excellence at the 8th "Beauty in Science and Technology Panel Exhibition".
Mar. 29, 2014
Dr. Lok Kumar Shrestha (MANA Scientist) was awarded "The Distinguished Lectureship Award" at the CSJ Asian International Symposium.
Mar. 20, 2014
World's First Success in Visualization of Coenzyme Broadly Related to Vital Activities and Diseases.
Mar. 07, 2014
Dr. JI Qingmin (MANA Scientist) was awarded the best poster award in MANA International Symposium 2014.
Dec. 04, 2013
Carbon dioxide "breathing phenomenon" found in clay minerals
Oct. 08, 2013
Mr. Masaaki Akamatsu (D2) was awarded the best poster award in the 28th Meeting for Young Scientist, Ibaraki-area, Kanto-affiliate, The Society of Polymer Science, Japan.
Sep, 2013
Homepage was renewed.
Aug. 23, 2013
Development of New Chiral Sensing Technique that Enables Easy Determination of Optical Purity
Apr, 2013
Dr.Katsuhiko Ariga has been admitted as a Fellow of the Royal Society of Chemistry.
Group member, 2020.12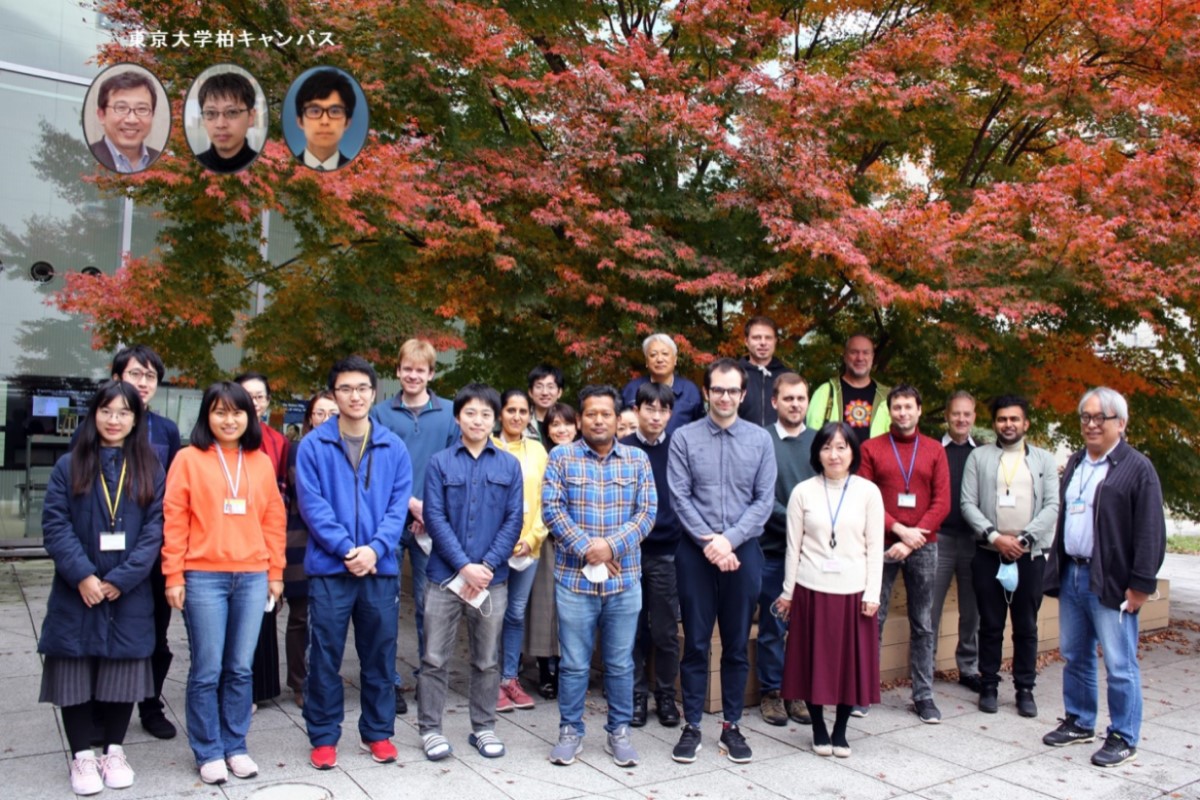 A degree was awarded to Jingwen Song [Doctoral Course] 2021.9.24