Press Release 2012
MANA Research Highlight Vol. 3
Development of hybrid porous scaffolds for promoted bone regeneration
Enhanced osteoinductivity through mimicking the in vivo micro-environment
---
A hybrid porous scaffold with enhanced osteoinductivity has been successfully developed by a collaboration team from Tissue Regeneration Materials Unit, International Center for Materials Nanoarchitectonics of National Institute for Materials Science, Nano Medical Engineering Laboratory of RIKEN and National Research Institute for Child Health and Development. The hybrid scaffold was prepared from a mechanical strong synthetic poly(lactic-co-glycolic acid), collagen and a fusion bone morphogenetic protein-4 composed of an additional collagen-binding domain to mimic the nano- and micro-environment surrounding cells in vivo. The hybrid scaffold showed high osteoinductivity and will be used for regeneration of large bone. The hybridization method can also be used to prepare hybrid porous scaffolds with other cell growth factors for promoted regeneration of other tissues such as cartilage and skin.
---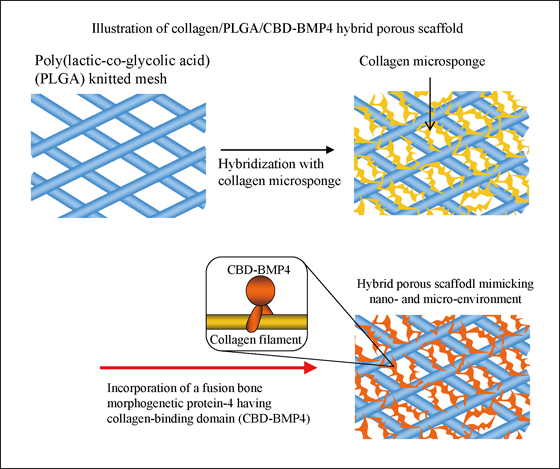 ---
---
Further information
Publications/Affiliation
Hongxu Lu1, Naoki Kawazoe1, Takashi Kitajima2, Yuka Myoken3, Masahiro Tomita3, Akihiro Umezawa4, Guoping Chen1*, Yoshihiro Ito2* Spatial immobilization of bone morphogenetic protein-4 in a collagen-PLGA hybrid scaffold for enhanced osteoinductivity. Biomaterials, 33, 6140-6146, (2012).
---
Tissue Regeneration Materials Unit, International Center for Materials Nanoarchitectonics (MANA), National Institute for Materials Science
Nano Medical Engineering Laboratory, RIKEN (The Institute of Physical and Chemical Research)
Neosilk Laboratory, Immuno-Biological Laboratories Co., Ltd., 3-13-60 Kagamiyama, Higashihiroshima, Hiroshima 739-0046, Japan
National Research Institute for Child Health and Development
* corresponding authors
---
Contact information
International Center for Materials Nanoarchitectonics(WPI-MANA)
1-1 Namiki, Tsukuba, Ibaraki, 305-0044 Japan
Email: Guoping Chen, Ph.D<Guoping.CHEN
nims.go.jp>
Telephone: +81-29-860-4496
---
---