News 2012
MANA featured in Special Issue of Advanced Materials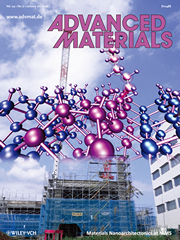 MANA was featured in the journal
Advanced Materials
published
by John Wiley & Sons, Inc. Its major research achievements was published online on January 5th, 2012.
Advanced Materials
is categorized into materials science
field
by the database of Thomson Reuters and one of
the
most high impact journals (IF: 10.88) in the field. This is the first time a Japanese research institute has featured
in
its own special issue of the top-ranking journal
Advanced

Materials
.
In addition to the research papers listed below, the issue
includes
Nobel Laureate and MANA Advisor Heinrich
Rohrer
and Sir Harold Kroto offering their insights on
the
relationship between society and science and some advice for researchers in an
editorial.
---
Progress Report
---
Review
---
Communication
---
Research news
---
---
---