Conference 2022
The 14th MANA & ERATO Joint Seminar
"Nanocarbon Derived Donor-Acceptor Architectures for Light Energy Harvesting"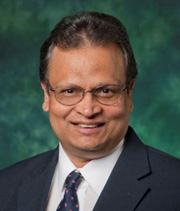 The 14th ERATO seminar of the
JST-ERATO Yamauchi Materials Space-Tectonics Project
is a lecture by Prof. Francis D'Souza of University of North Texas, USA.
The design, synthesis and properties of the functional carbon nanomaterials (eg. fullerene, graphene, nanotube) used for light-to-electricity conversion and energy storage will be presented. We look forward to your participation.
---
Date and Time
October 14, 2022
11:00 – 12:00 (Japan Standard Time)
Venue
ZOOM, Registration required, Free
Lecturer
Prof. Francis D'Souza
Regents Professor, Department of Chemistry, University of North Texas, USA

Language
English
Registration
Please send your information (name, affiliation, and E-mail address) to the ERATO-Office.
erato_seminar@list.waseda.jp
Closing Date
Tuesday, October 11th, 2022
---
Organized by the JST-ERATO Yamauchi Materials Space-Tectonics Project and co-organized by:
International Center for Materials Nanoarchitectonics (WPI-MANA),
National Institute for Materials Science (NIMS),
Waseda University Kagami Memorial Research Institute for Materials Science and Technology,
Joint Research Center for Environmentally Conscious Technologies in Materials Science,
and School of Advanced Science and Engineering, Waseda University.
---
---