Speakers
Plenary Speakers
Plenary Speakers
---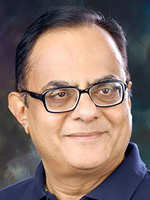 Prof. A. K. Sood (Indian Institute of Science, Bangalore, INDIA)
Prof. Sood, FRS is an Honorary Professor in Department of Physics at Indian Institute of Science, Bangalore. He is currently the President of the Indian National Science Academy and the Secretary General of The World Academy of Sciences (TWAS). He was the President of the Indian Academy of Sciences from 2010 to 2012.
His research interests include Physics of Nano systems such as grapheme and other 2D materials and soft condensed matter, with a strong focus on innovative experiments. The latter includes the flow behaviour such as rheochaos, nonequilibrium phase transitions, deconstruction of glass physics using colloid experiments, active matter and stochastic thermodynamics. The experimental probes used for exploring physics at nanoscale are Raman spectroscopy, Ultrafast time resolved spectroscopies including terahertz spectroscopy, transport measurements and x-ray diffractions He has published close to 400 papers in refered international journals and holds a few national and International patents.  His work has been recognized by way of many honors and awards .These include the Fellowship of the Royal Society ( FRS) , all the three science academies of India and TWAS ; the civilian honor, Padma Shri by Government of India,  S.S. Bhatnagar Prize, G.D. Birla Award, TWAS Prize in Physics, FICCI Prize, Goyal Prize, M.N. Saha Award and Millennium Gold Medal of Indian Science Congress, Sir C.V. Raman Award of UGC, Homi Bhabha Medal of Indian National Science Academy, DAE Raja Ramanna Award of JNCASR, National Award in Nanoscience and Nanotechnology by Government of India, Nano Award by Government of Karnataka, G.M. Modi Award of Science and  R D Birla Award for Excellence in Physics by Indian Physics Association.
---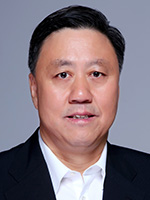 Prof. Junbai Li (Chinese Academy of Sciences, CHINA)
Junbai Li is a professor of CAS Key Lab of Colloid and Interface Science, Institute of Chemistry, Chinese Academy of Sciences. He is co-author of over 280 peer-reviewed international articles (citation: 11000, H index 58), including in Science, Chem. Rev., Chem. Soc. Rev., Angew. Chem. Int. Ed., J. Am. Chem. Soc., Adv. Mater. etc. He is an editor of 3 books (Springer and Scientific Publisher of China), author of 1 book (Wiley-VCH) and a contributor of 8 book chapters with 19 authorized Chinese patents.
Prof. Li graduated PhD degree from Jilin University China in 1992. He was a Hellas Post-doctoral fellow at Foundation for Research and Technology in 1993. He was then Post-doctoral fellow in German Max Planck Institute of Colloids and Interfaces from1994 - 1996. He is actively involved in various scientific activities and serving as Editor-in-Chief of Colloids & Surfaces A, Editor of Current Opinion in Colloid & Interface Science, Member of Advisory aboard of JCIS, Soft Matter and Biointerphases. He is IACIS Council Member (since 2008). He has served as Research Advisor in RIKEN, Japan (2001-2004) and Affiliate Professor of Peking University (2007- 2010). He is a Member of Advisory Aboard, Key Lab of Colloid & Interface Chemistry at Shandong University from 2002-Present. He has received many prestigious awards including 1997 CAS "Member of the Hundred Talent Program-Bairen Jihua" 1998 CAS president awards for Budget, 2000 "Outstanding Young Scientist Fund" of National Nature Science Foundation (NNSF), 2001 Hongkong "Qiu Shi" "Outstanding Young Scientist Award" 2016 JCIS Darsh Wasan Award for "Outstanding Achievements in Surface and Colloid Chemistry" 2017 Lectureship Award of Japanese Chemical Society and 2017 Foreigner member of the Swedish Royal Society of Arts and Sciences in Gothenburg. His current research interests include Molecular assemblies of biomimetic systems, Biointerfaces and Nanostructured Design (Bioinspired materials).
---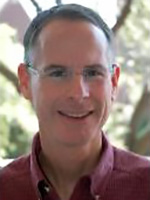 Prof. Kirk Schanze (University of Texas at San Antonio, USA)
Prof. Schanze earned his B.S. in Chemistry from Florida State University in 1979 and his Ph.D. in Chemistry from the University of North Carolina at Chapel Hill in 1983. He was appointed a Miller Postdoctoral Fellow at the University of California, Berkeley, from 1984-1986 and began his independent faculty career at the University of Florida in 1986.
Schanze was University Distinguished Professor and Prominski Professor of Chemistry at the University of Florida until 2016. Since 2016 he was appointed the Robert A. Welch Distinguished University Chair at the University of Texas at San Antonio. He was a Senior Editor of the ACS journal Langmuir from 2000 - 2008. Since 2008, Schanze is Editor-in-Chief of ACS Applied Materials & Interfaces, the ACS journal focused on chemistry and engineering of applications-focused research in materials and interfaces. Since 2003, he has authored or co-authored more than 175 peer-reviewed articles on basic and applied research topics, with a primary focus on organic and organometallic materials chemistry, and is named in 20 patents or disclosures. His selected honors and accolades include CAS Presidents Fellowship, ICCAS, Beijing, Fellow of the American Chemical Society, Japan Society for Promotion of Science Fellowship, Florida Award, American Chemical Society, Florida Section, Honda-Fujishima Lectureship Award, Japanese Photochemical Association, Special Creativity Extension Award, National Science Foundation, University of Florida Research Foundation Professorship, National Research Council, Research Associateship Program, Panel Member, Gibson Term Professor, College of Liberal Arts and Sciences, University of FloridaNASA Group Achievement Award, NASA Langley Research Center, Teaching Incentive Award, University of Florida.