Award 2014
Takako Konoike, Independent Scientist receives Young Scientist Award of the Physical Society of Japan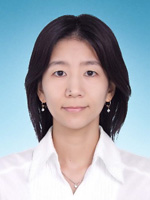 MANA Independent Scientist Dr. Takako Konoike (former Research Associate in the Osada Group, Department of Physics in Extreme Conditions, Institute of Solid State Physics (ISSP), University of Tokyo) was recently awarded the 8th (2014) Young Scientist Award of the Physical Society of Japan (Area 7).

This award was established in 2007 to encourage research by outstanding young scientists who will be responsible for physics in the future. The award to Dr. Konoike recognized her contributions to research on the thermal properties of Dirac electron systems. As part of this work, Dr. Konoike established a technique for measurement of thermal properties under multiple extreme conditions (low temperature, strong magnetic field, high pressure). By applying the developed technique to an organic conductor under pressure, which is regarded as a multi-layer Dirac electron system, she succeeded in measuring the specific heat and thermoelectromotive force of monoatomic layer graphene, which had been difficult until now, and also discovered a giant Nernst effect in the organic Dirac system.

The award ceremony and memorial lecture were held at the 69th Annual Meeting of the Japan Physical Society on March 27, 2014.
---
---
---