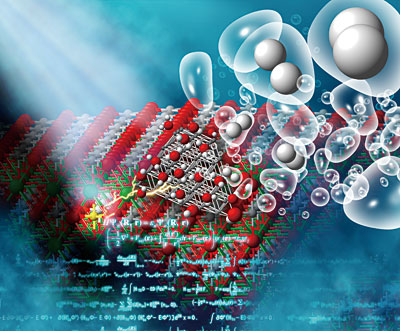 OUR MAIN OBJECTIVE IS
TO PREDICT BETTER
MATERIALS BASED ON THE
KNOWLEDGE ACQUIRED BY
THEORETICAL STUDY


The NATIONAL INSTITUTE for MATERIALS SCIENCE (NIMS) is a research institution specializing in the research of metals, organic and inorganic materials. It is located in Tsukuba in Ibaragi prefecture, 75km north of Tokyo, Japan.
Functions of environmental remediation materials are characterized by a common keyword "the surface and interface phenomena". The materials design is, therefore, feasible if one reaches unified understanding of the common problem.
However, it is extremely difficult to reveal the detailed mechanism of chemical reactions on surfaces or interfaces because they are usually accompanied by complicated processes such as carrier transfer or intermediate formation. Hence, one must focus on the property of interest and construct a concise model which includes the crucial essence of the phenomenon.
Combination of such a model with first-principles calculations can offer a concept of "first-principles modeling" which enable us to remove minor factors and clarify the key mechanism of the complex phenomena.
Our main objective is to predict better materials based on the knowledge acquired by the theoretical study. We are going to accelerate the materials development by repeating prediction and validation processes in tight collaborations with experimentalists.
Members
NAOTO UMEZAWA (LEADER) webpage
Environmental Remediation Materials Unit
Catalytic Materials Group
MITSUTAKE OSHIKIRI webpage
Environmental Remediation Materials Unit
Fundamental Process Group
TAKAHISA OHNO webpage
Computational Materials Science Unit
PENG LI (Postdoctoral Researcher)
Environmental Remediation Materials Unit
Catalytic Materials Group
JUNJIE WANG (JSPS Research Fellow) webpage
Environmental Remediation Materials Unit
Catalytic Materials Group
MUKESH KUMAR (Postdoctoral Researcher) webpage
Environmental Remediation Materials Unit
Catalytic Materials Group
AKIRA YOKO (Internship Student)
Environmental Remediation Materials Unit
Catalytic Materials Group
AKI FUTAESAKU (Secretary)
Environmental Remediation Materials Unit
Catalytic Materials Group
Former Members
Hungru Chen (University of Bath, U.K.)
Adisak Boonchun (Kasetsart University, Thailand)
Pakpoom Reunchan (Kasetsart University, Thailand)
Yuta Aoki (NIMS Internship student, Tokyo Institute of Technology)
Wei Zhou (Visiting Researcher, Tianjin University)