1. Development of visible-light-responsive hydrogen-generating photocatalyst Sn3O4 that is abundantly and cheaply available
Sunlight is the ultimate form of sustainable energy, but it cannot yet replace conventional fossil and nuclear fuels, as no technology has been established for directly converting the sunlight into chemical energy (i.e., fuel), which is suitable for concentration and transportation. Many hydrogen-generating catalysts, e.g., titanium oxide (TiO2), are capable of generating hydrogen fuel from solutions of organic materials by absorbing ultraviolet rays. However, because visible light, which comprises the majority of solar light, cannot be absorbed, it is difficult to use for actual solar energy conversions. The development of new photocatalyst materials capable of decomposing water by absorbing visible light is progressing on a global scale, but there are issues regarding the cost and environmental responsiveness, as many of the current materials contain rare metals in high concentrations, such as tantalum, which is expensive, or lead, which is highly toxic.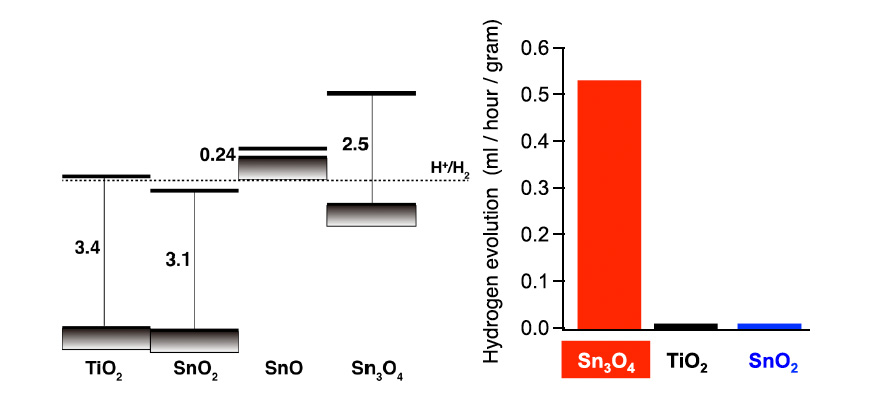 Fig. 1: Position of band edges of tin oxide (left) and hydrogen-generating photocatalytic activities of Sn3O4, TiO2, and SnO2 irradiated by visible light (λ > 400 nm) (right).
Our group conducted material developments according to theory, theoretically predicting that oxides that include the divalent tin ion (Sn2+) have electronic structures desirable for the hydrogen-generating reactions of photocatalysts irradiated by visible light. Proceeding with his material research in accordance with this guideline in collaboration with experimental researchers, we discovered a tin oxide comprising a divalent tin ion (Sn2+) and a tetravalent tin ion (Sn4+): Sn3O4 (Sn2+2 Sn4+O4) (ACS Applied Materials & Interfaces, 6, 3790-3793, 2014). The band alignment of TiO2, SnO2, SnO, and Sn3O4 derived by the first-principle calculation are shown on the left side of Fig. 1. It is evident that the position of the conduction band minimum for Sn3O4 is sufficiently higher than the reduction potential of water and is suitable for the hydrogen-generating reaction. This substance was revealed to generate hydrogen from solutions of organic materials irradiated by visible light, under which the TiO2 was not activated at all (right side of Fig. 1). Oxides of tin have a low toxicity, are inexpensive, and are available in abundance; therefore, they are widely used as materials for transparent conductors. Photocatalysts of Sn3O4 can reduce the environmental burden and manufacturing cost of hydrogen fuel and are expected to provide a significant contribution toward the realization of a recycling society based on solar energy.
Publications
— Maidhily Manikandan, Toyokazu Tanabe, Peng Li, Shigenori Ueda, Gubbala V. Ramesh, Rajesh Kodiyath, Junjie Wang, Toru Hara, Arivuoli Dakshanamoorthy, Shinsuke Ishihara, Katsuhiko Ariga, Jinhua Ye, Naoto Umezawa*, and Hideki Abe*, "Photocatalytic Water Splitting under Visible Light by Mixed-Valence Sn3O4," ACS Applied Materials & Interfaces, 6, 3790-3793, 2014.