Helium Liquefaction System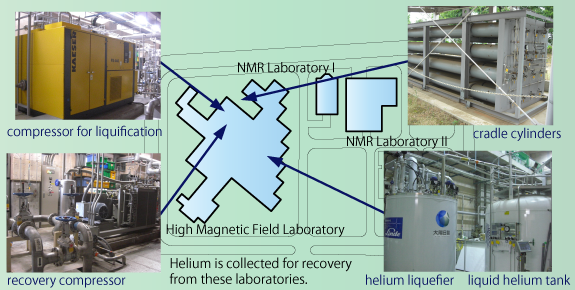 Helium liquefier system was first installed in 1976. CTi Helium Liquefier (50L/h) was introduced for 17.5T superconducting magnet and liquid helium supply for the magnet operation.

The system was renewed to SULZER : TCF200 liquefier system (250L/h) in 1988, then replaced in sakura site in 1955. This system has supplied liquid helium 120,000L/year for magnet cooling and several measurements.

Now Linde : LC280 liquefier system has operated since 2006. The specifications are below.


Helium Liquefier System
Capacity
helium liquefier
Linde LC280 : 170L/h (99 vol%He)
helium liquefier
3360 Nm3/day
liquid helium tank
5000 L
recovery compressor
3655 Nm3/day
compressor for liquification
KAESER FS440 : 0.99 MPa
recovery compressor
Burckhardt C5U214.4GEX : 14.7 MPa
Storage
recovery bag
80m3
cradle cylinders
4083.2 m3