A paper by Dr. Ikhtiar et al. published Applied Physics Letters has been selected as a Featured Article.

---
2018.01.13
  A paper entitled "Giant tunnel magnetoresistance in polycrystalline magnetic tunnel junctions with highly textured MgAl
2
O
4
(001) based barriers" published in Applied Physics Letters by Dr. Ikhtiar, a former post-doc researcher in Magnetic Materials Group,
et al.
has been selected as a Featured Article of Applied Physics Letters.
Giant tunnel magnetoresistance in polycrystalline magnetic tunnel junctions with highly textured MgAl2O4(001) based barriers
 Ikhtiar, Hiroaki Sukegawa, Xiandong Xu, Mohamed Belmoubarik, Hwachol Lee, Shinya Kasai, and Kazuhiro Hono, Appl. Phys. Lett. 112, 022408 (2018);
 http://aip.scitation.org/doi/full/10.1063/1.5013076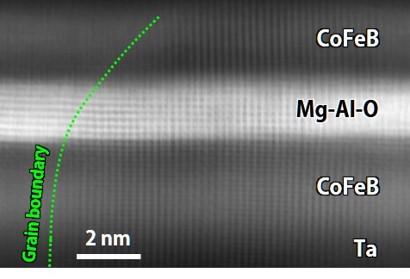 This paper reports on highly (001)-textured polycrystalline CoFeB/MgAl2O4/CoFeB magnetic tunnel junctions with a large tunnel magnetoresistance over 240% using sputtering on an amorphous Si/SiO2 substrate. This result demonstrates the industrial viability of a spinel-based barrier for spintronic application.