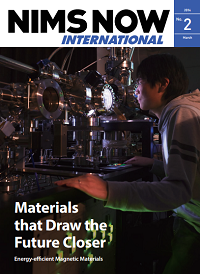 The newest "NIMS NOW", a newsletter of NIMS, features research on "Energy-efficient Magnetic Materials" in Magnetic Materials Unit.
Contents of NIMS NOW Vol.12 No.02 <March> are as follows,
- Ultrahigh-Density Magnetic Recording Materials
- Tunnel magnetoresistance device Materials for STT-MRAM
- New Paradigms for Spintronics Devices: The Spin Orbit Effects
- New Ecological Power Generation Technology through the Use of Anomalous Nernst Effect in Magnetic Materials
- Designing Optimal Microstructure for Nd-Fe-B Permanent Magnets
- Dysprosium-free Neodymium Magnets for Automotive Applications
- Permanent Magnet Research Network at the Elements Strategy Initiative Center for Magnetic Materials
PDF ver. is available on NIMS official website.