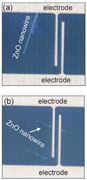 We studied contact formation between a ZnO nanowire and electrodes. In the first method, the electrodes were made on the ZnO nanowire using conventional lithographic technique. In the second, an AFM probe was used to move the nanowire onto prepared electrodes. Electrodes made of Ga-doped ZnO showed good electrical contact with the nanowire after annealing. The results demonstrate arrangement of nanowires into desired position to create novel functionality.


"Electrical properties of individual ZnO nanowires", Nanotechnology 20, 155203 (2009)
The paper is selected for Highlights 2009 and Best of 2008 and 2009 in "Electronics and Photonics" field of Nanotechnology.