2017 English seminar by remote-controlling an XPS

of Advanced Characterization Nanotechnology Platform

(July 28)
We are having an XPS English seminar as follows.
Participation fee: free
This seminar is held as one of activities of the nanotechnology platform project through the courtesy of ULVAC-PHI,Inc.
Date: July 28 (Fri), 2017.
[Program]
10:00-12:00
Location: Meeting Room 134, School of Engineering Building 9, The University of Tokyo Explanation of the usage and setting of automatic measurement by all participants.
12: 00-12: 30
(Place: Room 330, Faculty of Engineering Building No. 9)
Description in front of PHI 5000 VersaProbe
12: 30-13: 30
Lunch time
13: 30-16: 10
Analysis and interpretation of measured data
16: 10-16: 30
Discussion
16: 30-17:00
Tour of PHI5000 VersaProbe
This seminar will be held both for beginners and also for experienced users to supply fundamental knowledge on XPS and such as to improve their experimental skills.
The attendees can experience almost all functions of VersaProve by remote-controlling it for themselves in one day.
International staffs and students who wish to attend the seminar can contact us by sending an e-mail to the following address.
okitsu[at]soyak.t.u-tokyo.ac.jp
[Attached files]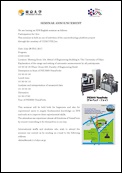 pdf