Group

Synchrotron X-ray Group



Neutron Scattering Group



Ion Beam Group



Atomic Beam Group
Link

NIMS Official HP



MRS-Japan



Doctoral Program in Materials Science and Engineering Graduate School of Pure and Applied Science, University of Tsukuba


SPring-8

Event

News & Topics

NIMS signs an MOU with the University of Padua

(September 1, 2009) The Department of Physics, University of Padua and the Quantum Beam Center signed a Memorandum of Understanding on research and development of functional optical nanomaterials by advanced ion beam technology.
The University of Padua is the second oldest university in Italy, founded in 1222, and is where many great scientists such as Galileo Galilei and Nicolaus Copernicus taught or studied.
This collaborative research proposal had been discussed since the two met at an international meeting (IBMM 2008) in Germany last September. The institutions will start to exchange researchers and information to promote their research.



NIMS Signs a MOU with Victoria University of New Zealand

April 24, 2009) The NIMS Quantum Beam Center signed a memorandum of understanding (MOU) on "Research and Development on Functional Optical Nanomaterials" with the School of Chemical and Physical Sciences, Victoria University of Wellington, New Zealand.
The two sides had discussed a potential tie-up on research since first meeting at the Particles 2008 International Conference (May 2008, Orlando, Florida, USA), and successfully concluded this agreement in April 2009 via the NIMS-NZ workshop on Nanomaterials (January 2009, NIMS).
This is the first MOU with a research institute in New Zealand for NIMS, and great expectations are placed on further activities.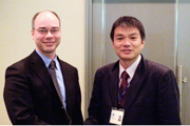 Contact

TOP
Copyright (C) 2007-2009 Quantum Beam Center, All rights reserved.