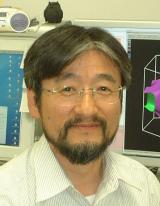 Tamio Oguchi
(Professor, Osaka University)
Materials exploration methods and tools are developed, improved, and built up for the application to practical issues in materials science by combining information science methods including machine learning, data assimilation, and sparse modeling with materials descriptors and databases, on the basis of computational materials science simulations. Our major tasks are following:

Structure search
By combining first-principles calculations which are used to optimize local structure and data science techniques which enable global structure searches, methods for predicting materials structure are developed.

Function search
By targeting materials groups with many degrees of freedom in element and composition such as multinary compounds, data science methods are used to predict and search for properties and functions for data sampled from property prediction by first-principles calculations.

Phase stability
To discuss the structural stability (phase stability) in a large composition space at finite temperatures, and the structure at phase boundaries and interfaces, data science techniques are used to develop multi-scale methods such as the construction of interatomic potentials.

Development of the potential of MI2 and validation of the project's effectiveness
By collecting information broadly from research institutions and companies, needs and methods required for MI2 are surveyed. In particular, searches for various ion conductors are performed by using first-principles calculations and data science techniques.