(FY2014) The GREEN Prize
The GREEN Prize is established to encourage and recognize the contribution of young researchers who have made excellent achievements in terms of promoting green innovation and addressing the associated challenges.

All research activities of GREEN are evaluated for the award competition. The award is open to all NIMS employees affiliated with GREEN, GREEN open-lab guest researchers (including short-term RA) and members of participating institutions.

The GREEN Prize 2014 was awarded to the following researchers at the 10th GREEN Symposium held on June 25th, 2015. Award of Innovation was granted to Dr. Xiao Jie, Prof. Tadahiro Kawasaki, Dr. Yasuhiro Shirai respectively. Open-lab Award was granted to Prof. Morihiro Saito. Long-term RA Award was granted to Ms. Shuo Yang, and Short-term RA Award was granted to Mr. Hiroshi Suzuki respectively.

The GREEN Special Award was also granted to Dr. Kotobu Nagai, the former GREEN Managing Director.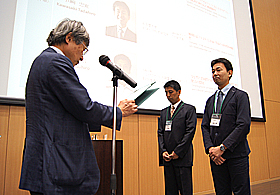 Award of Innovation winners, Prof. Tadahiro Kawasaki (right) and Dr. Yasuhiro Shirai (center)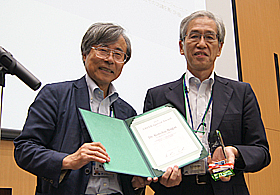 Prof. Kohei Uosaki (left) and Dr. Kotobu Nagai (right)
GREEN Special Award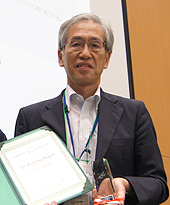 Dr. Kotobu Nagai
The former GREEN Managing Director
Award of Innovation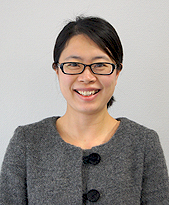 Dr. Xiao Jie
Quartz crystal microbalance study on positive electrode reaction of Li-air battery
Postdoctoral Researcher,
Nanostructured Electrocatalyst Group, GREEN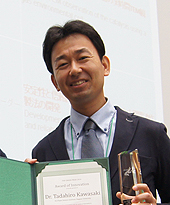 Prof. Tadahiro Kawasaki
Dynamic TEM observation of the catalysis using a gas environmental cell
Visitting Associate Professor,
EcoTopia Science Institute, Nagoya University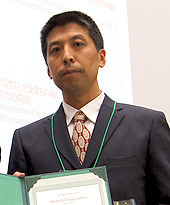 Dr. Yasuhiro Shirai
Development of fabrication method for highly stable and reliable perovskite solar cells
GREEN Leader, Ad hoc Team on Perovskite PV Cells, GREEN
Open-lab Award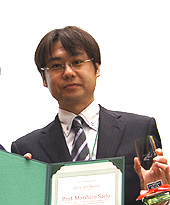 Prof. Morihiro Saito
Associate Professor,
Division of Applied Chemistry, Institute of Engineering, Tokyo University of Agriculture and Technology
Long-term RA Award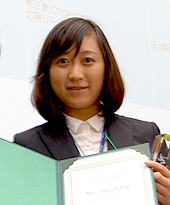 Ms. Shuo Yang
Hokkaido University
Short-term RA Award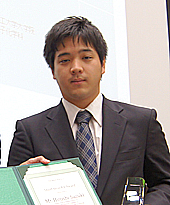 Mr. Hiroshi Suzuki
Tokyo University of Agriculture and Technology