(FY2013) The GREEN Prize
The GREEN Prize is established to encourage and recognize the contribution of young researchers who have made excellent achievements in terms of promoting green innovation and addressing the associated challenges.

All research activities of GREEN are evaluated for the award competition. The award is open to all NIMS employees affiliated with GREEN, GREEN open-lab guest researchers (including short-term RA) and members of participating institutions.

The GREEN Prize 2013 was awarded to the following researchers at the Tohoku Univ. & GREEN Symposium held on June 2nd, 2014. Award of Innovation was granted to Dr. Takashi Morinaga, Dr. Tsuyoshi Takata respectively. Long-term RA Award was granted to Mr. Ganesan Elumalai, and Short-term RA Award was granted to Mr. Masato Sato and Mr. Shun Tanno respectively.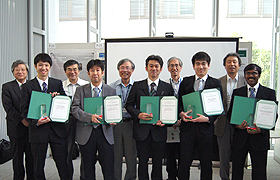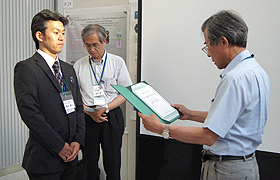 Award of Innovation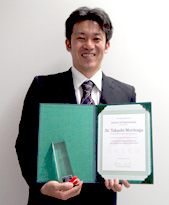 Dr. Takashi Morinaga
Living radical polymerization for ionic liquid-type polymer electrolyte
Principal Researcher,
Innovative Polymer Electrolyte Design Group, GREEN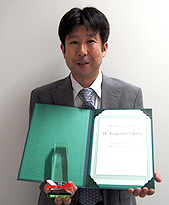 Dr. Tsuyoshi Takata
Novel surface modification of visible light photocatalyst for water splitting
Special Researcher,
Photochemical Energy Conversion Group, GREEN
Long-term RA Award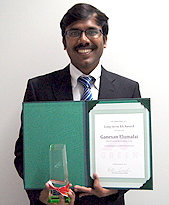 Mr. Ganesan Elumalai
Hokkaido University
Short-term RA Award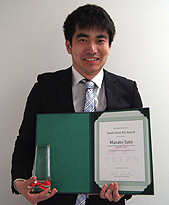 Mr. Masato Sato
Akita University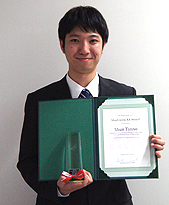 Mr. Shun Tanno
Tsuruoka National College of Technology